Fleetwood Town Community Trust were down at Highbury Stadium on Saturday 3 September to promote upcoming MANvFAT sessions and raise awareness to those inside the stadium.
MANvFAT is a health initiative for men, using the power of football to unite and encourage others to lose weight. A stadium activation event took place at the weekend, with fans from both Fleetwood and Wycombe taking part.
This meant that supporters had the opportunity to jump on the weighing scales, measure height and waist circumference and spread awareness of Body Mass Index (BMI) and the upcoming programme.
Fleetwood Town players also wore t-shirts pre-match to help spread awareness.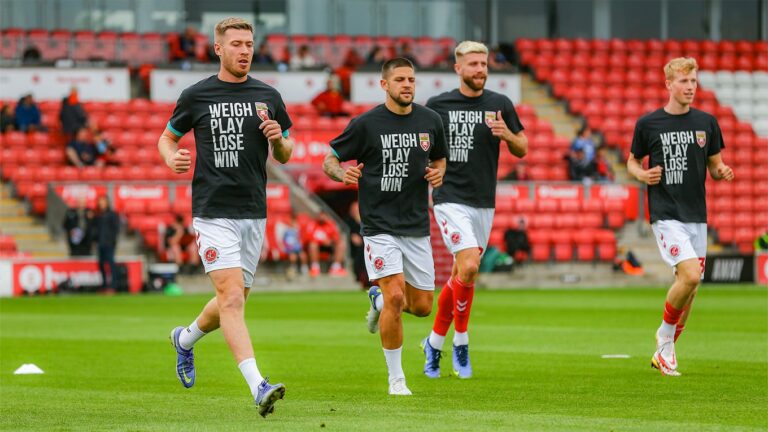 John Hartley, Community Cohesion & Inclusion Manager said: "Man v Fat is a project aimed to support men in the local area to lose weight, through playing football on a weekly basis.
"The initiative has so far seen over 50 men lose over 120KG, collectively, over the course of a 14-week season. If you want to know more details, please don't hesitate to email me at john.hartley@fleetwoodtownfc.com."
If you're interested in losing weight and getting involved in our football sessions, why not sign up today – you must have a BMI of 27.5 or above. Please find more details HERE!
Sessions take place weekly at Poolfoot Farm, with first kick-off every Friday evening at 6.30pm. It's vital that men of all shapes and sizes feel that they have the same equal opportunities to play football as others do and this platform provides that.