A place to learn and grow together
The education programme at the Fleetwood Town Community Trust is an exciting opportunity for both males and females aged 16-19 to continue their education, and career development through playing football and Futsal representing Fleetwood Town Football Club.
This unique and high-quality experience combines engaging, small group educational lessons and sports modules with our tutors, with the opportunity to train and develop with UEFA/FA qualified coaches, gain exclusive work experience and represent Fleetwood Town in various regional and national competitions, run by the English Football League.
Fleetwood Town offers both a Level Two and a Level Three Extended Diploma in Sport (Coaching, Development, and Fitness) and a Foundation Degree in Community Football.
Students will study classroom-based modules which include the Principals of Anatomy and Physiology, Exercise Health and Lifestyle and Fitness Testing which students will combine theoretical and practical exercises in such areas taught by our fully qualified tutors who not only have the relevant qualifications, but also a wealth of experience in the sports and leisure industry.
All work is submitted using an online platform, provided by the League Football Education (our Education provider). With Laptops and all resources provided for all students to achieve their potential.
Students of the education programme will train and compete in Regional and National tournaments, playing Futsal and 11-a-side football representing Fleetwood Town parallel to their studies. Training is held on the FIFA standard AstroTurf pitches at Poolfoot Farm and the State of the Art gym, with students training upwards of 1.5 hours a day and competing in the fixtures every Wednesday.
We will take on local colleges and fellow EFL Trust sides such as Blackpool and Blackburn Rovers in the North West Development League and the EFL Futsal Trust Futsal leagues allowing our scholars the opportunity to play 11-a-side and Futsal at a higher level, during and after their college studies.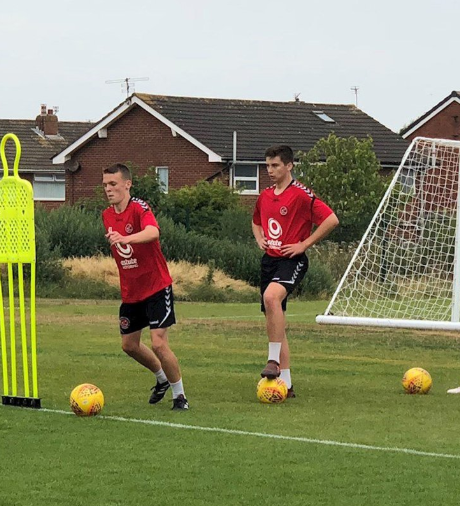 "The last 2 years have been brilliant, I have achieved a fantastic education, been able to play football every day, win things with my teammates, but most important than all of these, I have gained 2 good friends in my Tutors who make this course so much better"
2nd year EFL All-Star player