Fleetwood Town Community Trust Ambassadors
The Community Trust's work is linked with 5 key themes that have been recognised by the Football League Trust; Education, Health & Wellbeing, Sporting, and Inclusion and Youth. As Ambassadors, Fleetwood Town Football Club players headline up our projects and are the faces of our advertisement. We understand the importance of player engagement within the community, and so the Community Trust appreciates the efforts that our first team players put into our community schemes.
 "It's important that the players take interest in the community with it being such a tight-knit one. The players are seen as role models who should encourage good behaviour, good morals, and principles amongst the youngsters. It's definitely something that's close to my heart."
Bobby Grant
Former Ambassador and Fleetwood Town player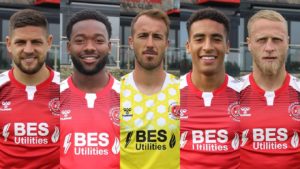 The Community Trust Ambassadors are:
Tom Clarke– Education Ambassador
Danny Andrew – Health Ambassador
James Hill – Sporting Ambassador
Alex Cairns– Inclusion Ambassador
Shayden Morris – Youth Ambassador
Marianne Davies, Community Trust Operations Manager, said: "We are delighted to have the five players on board for the new season. It is important for the players to work with the community when at this football club.
"The five chosen ambassadors will really help promote their areas through a variety of different ways, and alongside us, they will help children stay active, work hard in school and also help them become the best people they can be in whatever environment they are in."