As we approach the time of year where those connected to the Armed Forces whether that be through service, blood, friendship or just a profound respect begin to reflect on the sacrifice so many have given so that we can all sleep peacefully in our beds. It's extremely poignant that our first Veteran's trip further afield was to the National Memorial Arboretum in Staffordshire.
If you've never been or even heard of it then I can only describe it at one of the most beautiful and emotional places you can visit. The vast size of the place including almost 400 memorials is unbelievable. It caters for all ages, and you could easily spend all day walking around the beautiful gardens. My own Regiment the Duke of Lancaster's Regiment has a huge Lion and is a sight to behold. We visited the Football memorial to remember the story of the English and German soldiers playing football on Xmas day during the war and the crown jewel is the Armed Forces Memorial. A huge wall with the names of all those who have given their lives in the service of their country since the end of the second world war. I have four friends on that wall. Four Lion's I miss every day and maybe now you can understand why this place is so special.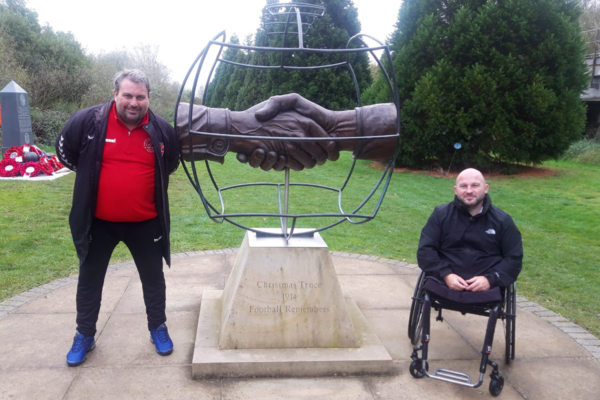 The Veteran's group had a fantastic day with some of them taking the train tour around the grounds. This was a great way to relax and see the vast majority along with a pre recorded explanation. We chatted in the café about which memorials had impressed us and how much we had enjoyed it after we'd all spent a few hours discovering what was on offer. After that we finished the day with a nice meal together at a nearby restaurant which certainly went down a treat.
We must thank Phil Bowker who also works for Fleetwood Town Community Trust, who was our minibus driver for the day and got us all home safely. I'd also like to thank all the Veterans who came on the trip as without them it would mean nothing.
The Trip was completely FREE and there will be more to follow. Join us at one of our Veterans events to meet people and sign up for the next one.
Alternatively contact Rick Clement on 07949523089 or rick.clement@fleetwoodtownfc.com