To help celebrate the 25th anniversary of the charity Show Racism the Red Card, Fleetwood Town Community Trust will be hosting a workshop to promote and celebrate the campaign. On Friday 22nd October, the Community Trust will visit Fleetwood High School to deliver the workshop during their Premier League Kicks session. The workshop will be presented to participants aged 8-18, which will provide awareness of racial issues in society, as well as provided engaging sporting activity.
To raise awareness, Show Racism the Red Card asked people to take part in their #WRD21 campaign, where people wore a red item of clothing. This is something that could be seen in Fleetwood Town's home fixture on Tuesday, as players from both teams wore red Show Racism the Red Card t-shirts during the warmup. The charity is the UK's largest anti-racism educational charity, delivering presentations and workshops as seen at Fleetwood High School.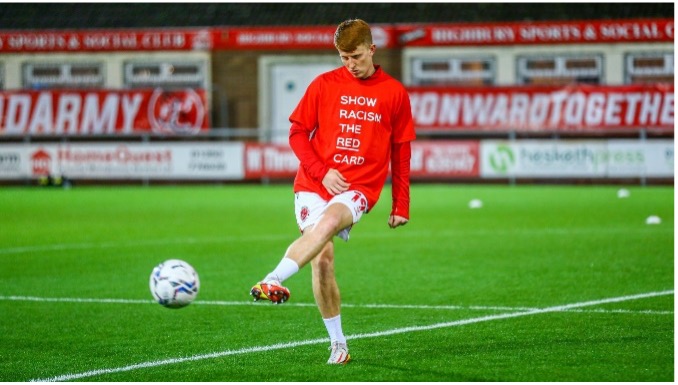 Fleetwood Town Community Trust are happy to help raise awareness and education around the historic and existing racial issues in our society. Taking part in the #WRD21 allows the Trust to do this, as well as demonstrate that there is no room for racism in our society.
John Hartley, Community Cohesion & Inclusion Manager added, "We are committed to tackling discriminative behaviour head-on and showing that there is no room for racism within our community. We are supporting the Wear Red Day campaign and encourage local residents across the region to do the same, highlighting one clear message. By working collaboratively, we can all show that we are united through the inclusive values that we as a community stand by."
Visit our Social Media platforms to keep up to date with our engagement in the community